So, I had bought these on eBay about two years ago, reserving them for a major overhaul and bring them back up to better-than-new status. Picked up at Wollongong for $100, not bad.
They're
BBS RSII
, this particular model the
RS702
. It has a
5x112
pattern, are
17x8
,
ET35
all-around, and I'm guessing the centrebore was made to fit Mercedes Benz vehicles. They were a perfect for a B5 A4 previously, so
they had hub-centric rings
fitted to Audi-spec (
57.1mm
, which means VW-spec too :D). They're
2-piece
, built in the modern way - barrel is one piece, with the centre-face able to come apart. The location of the bolts look a little awkward. I think the guys at BBS thought so too, as they released subsequent two-piece wheels with bolts lined up around the lip, and/or located closer to the spokes to make them less conspicuous. I'm thinking the BBS LM and the RS-GT.
Anyway, all wheels were in similar condition to the above - outer rim was guttered to the shit-house and just generally dirty. Not pictured, but it came with the chrome-logo BBS centre-caps, but like all of them of this vintage, the surface has been heavily oxidised.
Besides those little niggles, the centre-face was in great condition, and the outer-rim was only a "guard", with most of the under surface metal (the actual rim) untouched. However, I found out later than two of them
did
go through the guard and managed to scrape the metal underneath, and on one incident, scoop up a bit of the metal. More on that later.
So, first order of duty was to
disassemble them
. First hurdle - finding the right tool for the job. The
wheel bolts
that hold the pieces together were of the 12-point female kind, known as a "spline"-type bolt. They have been referred to as triple-square, but I have since found that to be
incorrect
- the triple-squares have a different edge to the indents, more of a "square"-edge than a "point"-edge, as seen in the below pic:
Generic shops didn't have them, which lead me to discover specialist tool shops (I went to VEK Tools in Smithfield). Expensive, but they have every tool that you really need. That said though, the M8 spline bit I got for the wheels along with the bit socket only amounted to $9. Made disassembling the wheels a breeze, and is a must - don't ever think about using allen keys for bolts like these, unless you've got a sick fetish for stripping bolts.
Fuck yeah.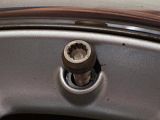 As I undid each and every bolt, I came upon the
valve stem
- on this wheel design, it doubles as a wheel bolt to hold the pieces together as well. It uses a larger hole, so there's no need to make markings on the centres and barrels when pulling them apart - they only go back together one way. The wheels came with a screw-in device that acts as the stem that protrudes out of the wheel to allow air to be inflated through using conventional tools. Furthermore, they come with a screw-in cap to give a smoother look of the overall wheel. Very cool, first of its kind I've come across.
(Pics of the stems in Part 3.)
Once all the bolts were taken out,
separating the pieces
was next. Two wheels came out easy - a soft knock on the hub mount face was all it took to pop it out.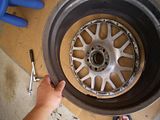 However, the other two was a bitch and a half - someone had separated them before, squeezing a shitload of
unrequired sealant
between the two pieces. I tried everything - standing on them, jumping on them, leaving them out in the sun before jumping on them, untold number of whacks with the mallet. But still to no avail. I decided to take them to Peter @ OZwheel out in St Marys (Minchinbury now) as I had to get some wheels re-rolled. He used what look like a punch and a hammer, gave three-or-four heavy whacks and they came out like nothing. You could imagine my face watching him do something in 5 seconds with successful results in what took me 5 weeks that resulted in a mashed mallet. Anyway, he charged me nothing for that, so all was good.
Once the centres were out, I could
rip out the outer rim guard
. It was a flexible thin metal piece that had a chrome finish. Not easy at all to take out as it was sealed on. Took a couple of thick screwdrivers and some pliers to wedge out. Each consecutive one seemed to be harder to get off as the previous one.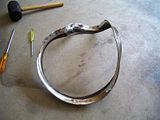 I may have scuffed the surface of the rim a little bit, but I managed to sand them out.
Ah yes,
the sanding
...
Plenty of hours wasted scraping the gunk off, then hitting it with the flapper wheel and nylon brush 'til I saw shiny metal.