So today I decided to disassemble the Work CV wheel. I had started on polishing the lips a few months back, so I had the hardware taken off. The wheel was in horrible condition though, as I had left it sitting outside. Anyway, it was a really sunny and warm day today so I left the wheel to sit in the sun for about a half hour. With the Work CV, the wheel pieces were arranged with the centre-piece sandwiched between the inner and outer:
You can see the factory sealant between the pieces. I left it in the sun to warm up the sealant so it could come apart more readily. It worked, with some mallet persuasion :)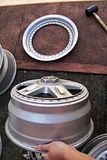 It was surprisingly easy to take off; the BBS RS wheel I had disassembled about a year ago was impossible (I ended up taking it to a wheel specialist to knock it off for me). The centre-piece took a bit more effort to knock off the inner section though (sealant may have cooled down) but a couple of hard whacks and it was off:
Absolutely no dramas at all, save for the outer piece hitting me in the shin (and bruising it haha) when I was knocking it out. Gotta be more careful next time.
I took all the pieces (including the bits for my BBS RS) to a sodablaster (Advanced Soda Blasting located in Blacktown) to completely strip them all back to clean metal. They'll do an infinitely better job than what I can with a drill and flapper wheel. I'm expected to pick them up tomorrow afternooon :)
Oh, and I also received these in the mail earlier this week :D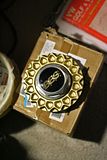 I've also decided to only do two wheels. Three wheels will take too long to complete and will also take up too much space. So I'll be ditching the rusted steelie...