Yesterday was immense. I gave Bunnings a quick visit in the morning to get some wood to use for wheel stands. I ended up ditching the idea to use different wood as it was just too hard to get done with the amount of time I had left. I didn't get started on the wheel stands 'til later in the afternoon as I had work for most of the day. Being an unexperienced wood-worker, it took me much longer than anticipated to make the wheel stands, but Dad was at hand to help so I did end up getting some sleep haha. I don't think the neighbours were too happy but there were no complaints!
I didn't take any photos during the whole process though so this entry will not be very interesting, but I did wake up early today to give it a quick paint (have some spare black spray paint lying around) and a test fit to make sure it doesn't tip over or break on me during the Marketplace. We used a lot of Liquid Nail, actual nails and even screws, so it shouldn't fall apart *touch wood*.
Here's some after photos.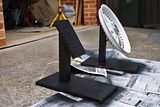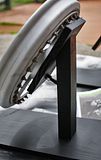 A few more hours until my Marketplace commences. I'm pretty damn excited! Hope all goes well and others can appreciate this kind of work :)